OCEAN CITY, MD / April 22, 2020 / – ClearBox, the leader in appraisal regulatory compliance and vendor management solutions, today announced that it has entered into a partnership with PropMix to expand its software platform to include PropMix's Market Conditions Advisor (MCA), an Artificial Intelligence based appraisal analytics platform. This will enable residential valuation related insights to be easily accessible to ClearBox's customers.
MCA is a residential real estate appraisal analytics platform powered by curated real estate data and Artificial Intelligence. It provides embedded access to listing and public record data including deep property history without having to download & import data from the MLS. Appraisers can easily generate an inventory analysis and include local market insights in their appraisal reports.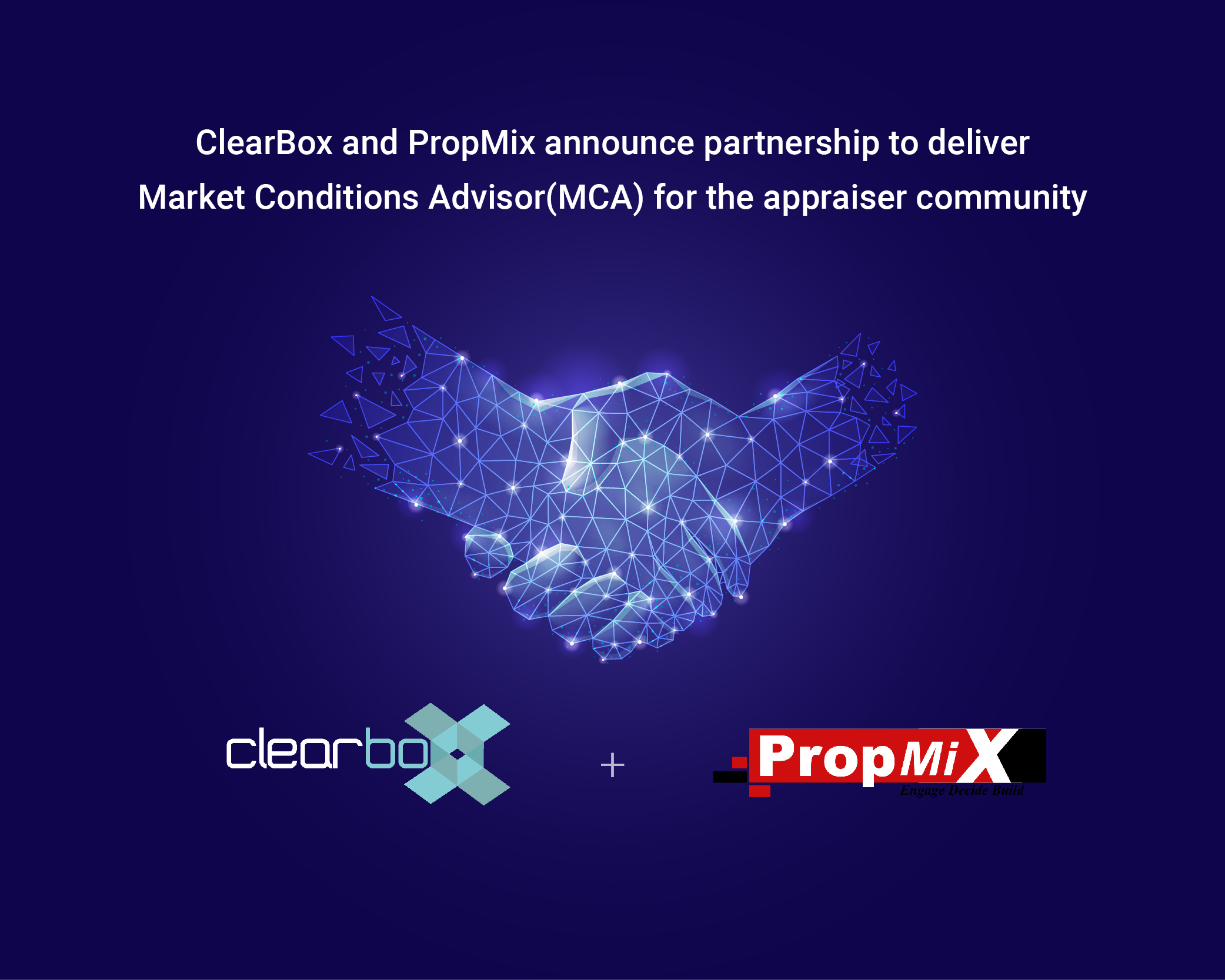 ClearBox's clients will now have access to MCA from within the ClearBox compliance and vendor management platform with a seamless single sign-on. Appraisers can launch MCA to perform their market analysis and export the report into their favorite forms software. Lenders and AMCs in the ClearBox network now obtain seamless access to MCA to perform appraisal reviews.
"We believe that the lending community increasingly needs to leverage Artificial Intelligence to help automate and improve its processes," said Joan Trice, ClearBox's Chief Executive Officer. "PropMix's MCA is a comprehensive appraisal analytics solution with builtin AI & image recognition and its addition to our platform helps us broaden our offerings to our customers."
MCA is on a rapid growth trajectory enabling numerous features recommended directly by appraisers using it on the field. The latest such additions are regression based value adjustments and flagging of flipped properties which are already helping drive appraiser productivity. "Our goal is to augment the appraiser's local knowledge and expertise with our data and insights to increase the accuracy, transparency, and accountability of the appraisals," said Umesh Harigopal, CEO of PropMix. "As part of that journey, we are thrilled to be working with ClearBox to deliver MCA – our flagship product for the appraisal community."
About ClearBox
ClearBox, LLC was founded to address the complex landscape of compliant processes and data management. The ClearBox suite of products offers solutions to all stakeholders – Appraisers,Real Estate Agents and Brokers, Lenders, Appraisal Management Companies and Regulators. ClearBox was founded in 2011 with headquarters in Ocean City, MD.
About PropMix
PropMix.io LLC, is a real estate data, insights, and solutions company with deep experience in commercializing Artificial Intelligence. PropMix's platform and solutions are widely used by mortgage lenders, appraisers, realtors, and investors. Built on industry open standards, PropMix.io empowers users to engage with data, make decisions using insights and build the real estate technology of the future. PropMix was founded in 2016 and is headquartered in New York.
Read more about Market Conditions Advisor (MCA) at appraise.propmix.io